Saturday, 31 October 2015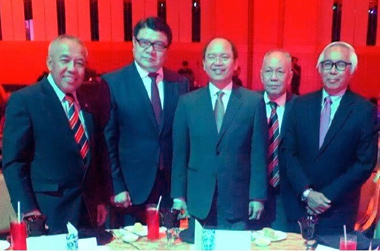 President of Academy of Sciences Malaysia-Tan Sri Dr.Ahmad Tajuddin, Special Envoy of Seychelles for ASEAN-H.E.Nico Barito, Minister of Science Technology and Innovation of Malaysia-Honourable Datuk Seri Panglima Madius Tangau, Chair of ISTIC Governing Bo
Special Envoy of Seychelles for ASEAN, Nico Barito is guest of honor during the Conferment of Fellowship of Academy of Sciences Malaysia (ASM) and Launching of Network of ASEAN Science Academies (NetASA) in Kuala Lumpur Convention Center on October 31st, 2015 and met with Minister of Science, Technology and Innovation Honorable Madius Tangau to discuss possibility of Seychelles to work closely with ASM to share the concept of introducing science and technology as a new economic corridor to Seychelles and to accelerate youth entrepreneurship.
ASM's objective is to be the Malaysia's think tank and leader in all areas of science, technology and innovation. The Academy champions the importance of science, engineering, technology and innovation for the benefit of society and promote better public perception on the environment, sustainability, energy and such including innovative technology. ASM endeavours to advance the agenda on science as a basis for long term economic development and societal wellbeing.
Seychelles was invited to the Launching of NetASA by Chair of ISTIC International Science Technology & Innovation Centre of Malaysia affiliated to UNESCO) Governing Board-Datuk Lee Yee Cheong, who has preliminary discussed with Mr.Barito the intention to conduct pilot project in Seychelles to capitalized human resources with engineering skill, such for construction, infrastructure and electrical.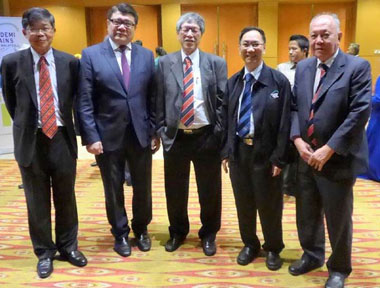 Chairman of Silverlake Axis Ltd. Mr. Goh Peng Ooi, Special Envoy of Seychelles for ASEAN H.E.Nico Barito, President ASEAN Academy of Engineering & Technology-Dtauk Hong Lee Pee, President CEO of University of Tunku Abdul Rahman-Prof.Datuk Dr.Chuah Hean Teik, Chair of ISTIC Governing Board-Date Lee Yee Cheong
During the visit, Mr. Barito visited the ASMs exhibition at MIECC (Mines Intl Exhibition & Conference Center) and expressed his admiration to the auspicious involvement of school children in the science technology. Mr.Barito discussed with Datuk Ir.Hong Lee Pee of ASMs who accompanied the tour to MIECC the various options to develop capacity building and training for youth with multi talent skills to fulfill the intellectual needs in Seychelles and Africa.